In most cases, concrete is the preferred material for building steps.  Concrete has a few distinct advantages over other materials.  The cost, speed of installation, versatility, and durability, make concrete the ideal choice.
Durability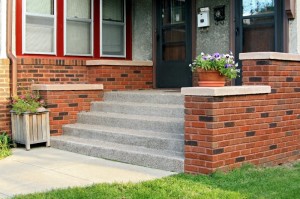 Concrete will easily outlast any other materials with its unparalleled strength and ability to withstand weathering.  Although, proper installation is key.
Easy Maintenance
The only maintenance recommended for concrete steps is periodic cleaning and resealing, which is much easier and quicker than resealing wood steps.
Versatility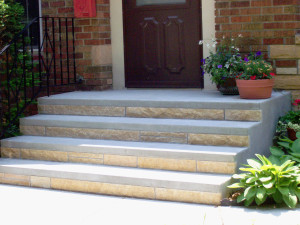 The most significant advantage is the versatility of concrete.  You are only limited by imagination when it comes to shapes, sizes, colors, and textures of concrete.  From broom finish to stamped patterns, from round to basic rectangles, the options are endless.
It can become overwhelming when you consider the design opportunities with concrete steps.  They can be customized to fit the style and architecture of any home or landscape.  Whether you prefer rounded shapes or squared shapes, concrete can be molded to suit any theme.  Structural shape is just one aspect of the overall step design.  You also need to consider the cosmetic choices.
The faces of the steps can be simple and flat, or dressed up considerably using one of several styles of cantilevers.  Cantilevers will dramatically enhance the appearance and character of concrete steps.
Another exciting option for steps is texture.  There's always the option of the normal broom finish and there's nothing wrong with it.  It will always remain the most common texture.  But concrete steps can also be done with the exposed aggregate finish or stamped to resemble other materials like brick and stone.  The only texture not recommended for steps is a smooth texture, especially on exterior steps.  The last thing you want is to have someone slip and fall down a set of concrete stairs.
     1)Exposed aggregate steps; 2) stamped steps resembling slate; 3) colored, stamped concrete steps.
Of course, color options with concrete are continously growing in popularity.  Concrete for steps can have color added integrally or it can be added to the surface using color hardeners, stains, and dyes.  There is a wide array of colors ranging from subtle to vibrant which can be utilized to suit anyone's taste or compliment any surroundings.