Decks add much more living space to your home and are often the setting of some of life's best times with family and friends. A custom deck is an important part of any home, a large extended area of the house itself, providing an excellent area to entertain and enjoy during day and night. A deck makes the house more beautiful and designing the right deck that fits your home, lifestyle, and budget can be very exciting! We want your deck to be perfect for YOU … and it can be … with a custom-designed deck from RA Building & Design.
A deck can mean a simple wooden platform, or an elaborate outdoor living area.  Looking for beautiful, affordable custom wood decks, composite decking, gazebos or pergolas?  RA Building & Design designs and builds custom and high-end wooden decks which reflect the architectural style of your home.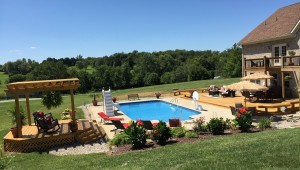 A well-built wood or composite deck should look good and last for years.  Unfortunately, not all wood decks are built well, and it can be difficult for a layman to tell the difference between a well-built deck and one that will start having problems in a few years.  Good quality material and hardware, combined with superior building skills, make all the difference.
Design Elements
The style of your deck or outdoor living area is created with design and construction components.  By changing these key design elements and details, you can create a specific style or a totally unique design:
size of beams and railing posts
deck board pattern
Railing size and shape
beam ends & post caps styles
stairs
joinery techniques
bridge span size and shape
wood texture and finish
custom touches (decorative beam end cuts, wood inletting, and finials)
metalwork & lighting
OUTDOOR FIREPLACES
                An outdoor fireplace creates a comfortable living space and extends the seasons.
One of the hottest trends in outdoor living spaces is a patio fireplace. It's not surprising an outdoor fireplace is an exciting gathering place when you are entertaining friends and family. Our in-house design team can provide concept renderings of your new outdoor space and a beautifully designed custom fireplace is a great focal point. An outdoor fireplace is also a great way to extend the seasons, allowing you to enjoy your patio by a month or longer. Many shapes, sizes and textures are available to suit any need. Custom accented hearth and chimney pieces, and mantles provide a very exquisite, traditional look. Seating walls are a great way to add a bit of coziness and provide more seating area. A built in grill is another way to gain concentration to an area. With the talent at RA Building & Design, and a solid plan, you can bring all the elements of the indoor essentials outdoors.
Fireplaces warm up any outdoor space, creating the perfect gathering place.

Pictured left to right:  an open-air porch with fireplace,
an outdoor wrap-around porch with cozy fireplace,
multi-level deck with fireplace and stone wall with lighting,
deck with fireplace and built-in grill and accent lighting.