Choosing the right flooring for a particular room in your home may seem like a daunting decision. It's a process that combines your personal taste with careful thinking about practicality. After all, it's a surface you, your family and friends will walk, stand and sit on, your kids will spill, play and grow up on.
The floor may not be the first thing you notice, but it will most certainly be something your body subconsciously appreciates.  The floor you choose can have a significant impact on your feet, but it can also help tie two rooms together or provide a contrast for a carefully selected room design.  There are typically so many aspects of a room addition or remodel that flooring can sometimes get left out, forgotten or pushed aside.  In order to have a floor that doesn't look like an afterthought, incorporate your flooring ideas in the planning stages.
Hardwood Flooring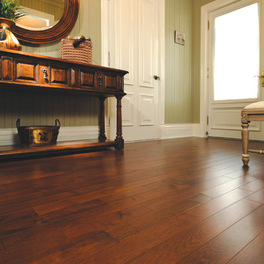 It's almost impossible to find another flooring that offers the warmth and beauty that hardwood floors do. Wood flooring enhances the decor of any room and provides timeless beauty that will only increase in value throughout the years. Wood is available in many varieties to meet the demands of your home and lifestyle — Factory finished, un-finished, solid, engineered, strip, plank and parquet. There are over 50 wood species both domestic and exotic; you're bound to find one that fits your homes decor.
Wood floors add value to your residence at resale time, not to mention it is a lifetime product. They increase in value as your home does. Hardwood floor products are one of the most sought after hard surface flooring in remodeling and new home construction.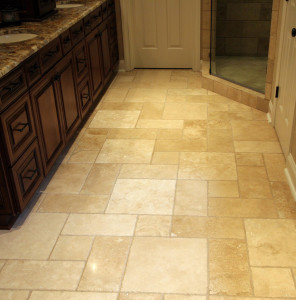 Tile Flooring    One of the most common flooring types is tile, partially because tile is appropriate in any room of the house. Tile doesn't have problems with water, making it ideal in kitchens and bathrooms, and you can select from an expansive variety of styles and designs (or even design your own pattern) to suit any room. Tiles create a smooth surface and when professionally sealed with grout are easy to clean and maintain.
Vinyl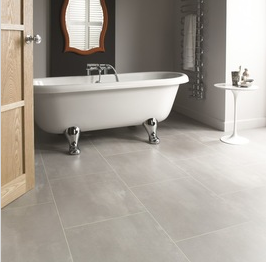 Many choose vinyl because of its easy maintenance, durability and design flexibility. Vinyl resists moisture and staining allowing it to look newer longer and spills to be removed easily. It is available in a wide variety of styles and colors as well as shapes that can be custom cut and laid out in patterns and logos. A natural noise reducer and soft to the touch, vinyl is a comfortable flooring solution for your home or business.
Laminate Flooring    Laminate flooring benefits your wallet better than any other flooring option on the market. It is less than half the price of hardwood and cheaper than carpet. It will also save you money in the long run because you won't need to replace it for years. Unlike hardwood, marble or carpet, laminate flooring does not fade in the sunlight and is resistant to stains, impacts and scratches. This is due to the incredibly durable melamine plastic wear layer laminate flooring manufacturers use for the top surface of laminate floors.
Laminate Flooring can be your best flooring option especially if you have children or pets.
Natural Stone Flooring    A natural stone floor may not be for everyone, but if enduring natural beauty and exclusive design are priorities, we have your new floor. Stone tile flooring is derived from some of the most exquisite materials in the world that provide unmatched durability, intricate patterning, and richly varied color. Formed by the earth's elements through extremes of climate, pressure and heat over millions of years, every piece of natural stone is unique. Depending upon the nature of the stone and other design elements, stone tile flooring is distinctively decorative and can produce an ambience ranging from imperial grandeur to a refined, modern appearance. Regardless of the material or design chosen, rest assured that no other floor will ever look like yours.
Stone flooring alone guarantees truly singular design, a quality that no manufactured product can duplicate, and it is the ideal material for creating distinctive spaces. While stone flooring is not inexpensive, its visual impact and performance can make it a worthy investment. As compared to wood, tile, linoleum or carpeting, stone flooring requires far less maintenance to retain its appearance and will certainly outlast all other flooring materials under almost any conditions.