RA Building & Design constructs exceptional quality post frame buildings which are planned, designed and built to suit your specific needs. Whether you're looking for something residential or commercial, agricultural or equine, RA Building & Design aims to give you exactly what you want at an affordable price.
RA Building & Design has established a solid reputation for providing customers with the highest quality, most structurally sound buildings in the industry.  Every RA Building & Design building is individually designed by our expert engineering department and is built on site. Our construction crews have extensive experience in site excavation and post frame construction and take great pride in their work. Their superior craftsmanship ensures that you*ll get an attractive, high-quality building that will fit your needs. Of equal importance is the quality of the materials that goes into every RA Building & Design building. Much research has gone into the selection of the materials used in construction to ensure that our structures will maintain their appearance and functionality for many years to come.
Every garage or pole building that we build is custom made – you pick the size, tell us what options and features you want, and we'll design and build it to meet your specifications.  Our buildings may be used for storage, as car garages, cabins, work shops, custom homes and much more.  Many options such as lofts, dormers, different type of roofs, apartments, lean-tos, etc., are available and may be added to any barn or car garage.
The Pole Barn/Building Advantage
*   Pole barns and pole buildings are an economical alternative to conventional building construction.
*   The reduced construction time and material costs allow customers an opportunity to economically construct their dream building and in most cases, allows them to have a larger building than they thought they could afford.
*   Pole buildings are safe, reliable, and time-tested. They are cost effective, require less maintenance than conventional buildings, and will last longer as well.
We also place a high priority on creating a superior building experience for our customers, before … during … and after construction. We look forward to working with you on your next building project and adding you to our list of satisfied RA Building & Design customers!
MATCH A BUILDING WITH YOUR NEEDS
Residential Pole Buildings Perfect for Living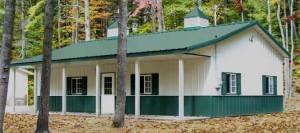 At RA Building & Design, we realize that you want your living space to be practical, comfortable, inviting and also pleasing to the eye. We can combine these important specifications to provide you with a pole building that we are sure will satisfy your residential pole building dreams. Pole buildings are not only meant for storage and work, but can be designed to be perfect for your family residence as well.  Your home can be humble, rustic, or grand to suit your taste and needs.
Equestrian Pole Barn Solutions
We understand that as owners of equestrian riding and horse breeding operations, you want the best comfort and safety for your horses. We will help you design equestrian pole barns suitable to meet your specific needs. In this process, RA Building & Design will consider your needs and wants for horse pole barns, and those of the people caring for your animals. We will combine these important horse pole barns specifications and supply a solution with arenas, tack rooms, horse feed rooms, horse wash racks, horse wash stalls, bathing areas, and custom stable accessory accommodations. Whatever dreams you have for your equestrian pole barn, RA Building & Design will assist you with designing the appropriate high quality equestrian barn and most effective layout for your property to meet your needs and specifications.
Pole Buildings for Recreation
Where do you spend your spare time? Do you have a comfortable, eye-catching pole building haven to go to and relax in and enjoy your favorite pastime? Whether it is a workshop, storage building, or a personal pole building rec room, come to RA Building & Design to find your pole building solution.
Agricultural Pole Buildings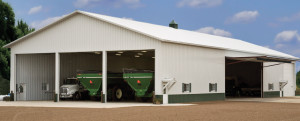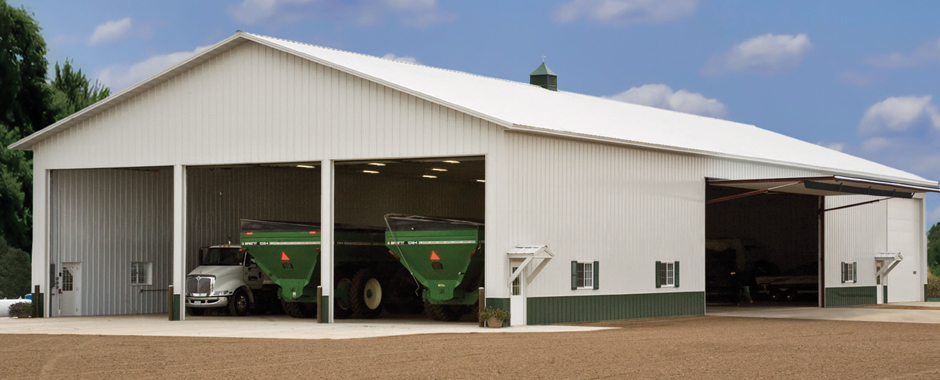 We offer anything from big equipment storage pole buildings to smaller commodity storage pole buildings. Our team is skilled in custom pole building design and quality agricultural building construction.  RA Building & Design pole buildings make ideal agricultural workshops and we can help you custom-design pole building solutions to meet and satisfy your unique needs.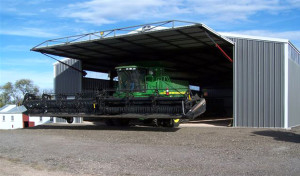 Machinery Buildings Save on Down Time
Gain more reliable equipment performance, because loss of time due to equipment failure during the farming season is expensive. Keeping your equipment in good shape during the off-season with a proper machinery storage building may save you precious time and money in the long run. Deterioration of machinery parts due to weather can be reduced with a building housing the equipment.
Garages
Garages play a very important role in our everyday living.  Of course, they protect our vehicles from the elements, but if you have a smaller house, your garage or shed is a storage lifeline. It's the place to keep large, infrequently used items, outdoor supplies, seasonal decor or anything that just doesn't fit indoors. No matter how you use your garage, RA Building & Design can help you build the garage that fits your specific needs.  And if your garage just isn*t big enough, we can help with that too.
2-car garage                   3-car, open bay garage                  garage addition