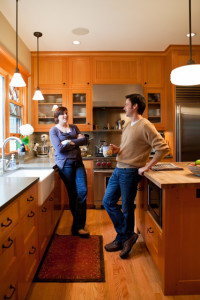 RA Building & Design's success has been established on a foundation of hard work, excellence and, of course, superb word-of-mouth from personal referrals.

Please take the time to review what just a small sampling of our clients has to say about RA Building & Design.
"Everyone's Jaws Just Dropped When They Saw Our Kitchen"
My wife and I wanted to drop you a quick note to let you know that we appreciate all the hard work your crew has put into our kitchen remodel. We had our first guests over this weekend and everyone's jaws just dropped when they saw our kitchen.  I couldn't have been happier! The custom cabinets and counter tops turned out so much better than we could ever imagined. And our second story addition has made our home so much more livable.  Having a third bathroom, the study, and our little "hideaway space" is a dream come true!  Thank you so much for making this project as painless as possible. We will be calling you soon to remodel our bathroom.  Thanks again!

Mr. and Mrs. Mark W.
"Perfection is my Humble Way of Describing RA Building & Design"
Perfection is my humble way of describing RA Building & Design and the quality of work. When I asked if you could repurpose an old slat board barn into a house, I was sure you thought I was nuts!  But now I'm crazy for the incredible plan Rick conceived and executed and never imagined a home so absolutely beautiful!  It's nothing short of a heavenly transformation!  However, way better than this has been the interaction between you, Mr. Rick, your office, and the crew. If there were an Oscar equivalent for construction companies, you would be repeat winners.

Pastor Kevin H.
"Cared for My Home as Much as I Do"
RA Building & Design is amazing! RA Building & Design remodeled our kitchen and built a custom deck.  I was amazed that a company would care about my home as much as I do. Rick was so detail oriented and made sure that we knew what was going on at all times. He was so patient with us as we went through paint colors, counter top selections, flooring, and lighting selections. This was our first remodel and we had no idea where to begin.  His design suggestions for our multi-level deck were truly inspired!  And the exposed aggregate porch adds much to our home's curb appeal.  Rick came to our house and gave us the contract agreement for how much the renovation would cost. We were blown away with the fact that when the project was finished the invoice was exactly that and not a penny more!

Mr. and Mrs. Ron and Lisa Z.
"Exceptional Capabilities – They have earned many more years of loyalty from our family."
Most recently I called on RA Building & Design to execute a total renovation and expansion of my 4-room house built in the 1820's.  It involved a complete renovation of the existing space and adding on an additional 2800 sq. ft., a front porch, complete siding, a wrap-around deck, plus the construction of a pole building.  This project included gutting and rebuilding the existing structure from the foundation up, adding all new mechanicals plus a host of electrical and plumbing upgrades, a new kitchen, master bath suite, addition of a fireplace , lighting, flooring, windows, and more too numerous to detail.  My home is now more than 4x its original size! This was an extensive project that required significant coordination. This project is an exceptional example of the capabilities of the RA Building & Design team. I couldn't be happier with the results and the way that they have managed this project. They have definitely earned many more years of loyalty from our family. Our thanks go out to the entire team at RA Building & Design!

Mike M.
"Loving it!"
My husband and I want to thank you for the fabulous custom gazebo and decorative concrete patio.  It's such a joy to relax and entertain there!  We know that without your planning and vision, the whole project would never have happened. We appreciated the competent attention to the whole process – we are grateful for the reassuring presence of RA Building & Design when we were feeling doubtful. Our special thanks go to Rick for his unending patience and for his craftsmanship.

Mr. and Mrs. Bryan and Jennifer B.
"They did everything they said they would.  Phenomenal job!"
The thing that most impressed us about working with the staff at RA Building & Design is that they did everything they said they would, it was done in a timely manner and with 100% satisfaction. The attention to detail to the design of our basement renovation and during the construction was phenomenal. Thanks to Rick's vision, we have a basement that is light and airy with an open stairway, family room, kitchen, bath, and office.  We were hating the thought of the mess and the disruption during construction but you made sure everything went smoothly.  I now have a beautiful space addition that's even better than I had dreamed about.  We would highly recommend RA Building & Design to all of our friends and family.

M. Green
"A Company You Can Trust"
I had RA Building & Design put a new roof and siding on our home.  My wife is quite meticulous and was very happy that the ground around our home was picked up of all debris.  I have used them for many small projects since then.  It's nice to have a company you can trust to do work that you do not know how to do, don't have time to do or want to do.  I have and will continue to recommend RA Building & Design to my friends.

Michael D.
"Showed It Off This Weekend and Everyone Loved It!"
Just wanted to drop you a line and thank you for the amazing job you and your team did on my kitchen remodel, siding, and the new front and back decks. This was my first remodeling job and I was a little nervous but it turned out great. Rick was very helpful and professional, as well as your team.  Your design sense and many years experience showed daily and gave us calm and security, and let us know that our confidence had been well placed.  I was able to show it off this weekend and everyone loved it. Thank you again and I look forward to using your company again when I decide to tackle other remodeling in my home.

R. King
"I'm Awestruck by the Quality and Craftsmanship of the Work!"
I continue to be awestruck by the beauty and elegance of my home as reflected in the quality and craftsmanship of the work of RA Building & Design.  Your team brought skill, experience, design sense, insight, and professionalism. RA Building & Design succeeded in building me a house that reflects the tradition and qualities of its rustic setting and reflects grandeur greater than I had envisioned.   The wrap around deck design is perfect and adds so much to the design.  And the one-acre pond that you dug and fashioned for us is amazingly crystal clear!  A job so very well done!

Bob C.
"Professional, Hard Working, and Accommodating"
I wanted to take a moment to tell you what an amazing job RA Building & Design did on my pole building "Recreation Man Cave".  It's turned into "the" place to hang out.  With the full kitchen and all the comfortable furnishings, it's even more comfortable than my house!  The floor-to-ceiling stone fireplace with the raised hearth is amazing!  A week doesn't go by that someone doesn't compliment it.  Rick and the crew were very professional, hard working, and accommodating to my requests. They were completely thorough to each detail as they performed their tasks. I am extremely satisfied with the outcome. Thank you and your crew again for a job well done!

Jeff "Arte" L.